Warm Seasons At The Ranch
Daily Happenings
Starting the first week of June, our program begins Monday and runs through Saturday. Each day is action packed and has activities for every age group. From horseback riding to hiking, every day gives  you the opportunity to soak in the cowboy lifestyle and create lasting memories. This schedule is only in place June through August.
Monday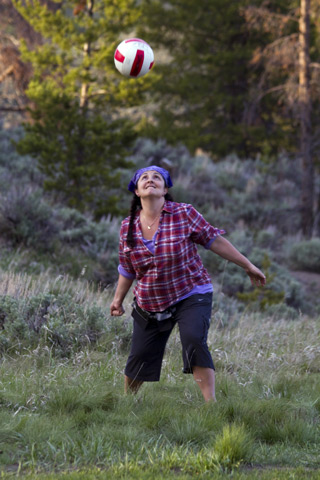 Time : 9:00-12:00
Check-in, brunch in Wind River Dining Room, meet your horse and saddle, arena rides, equitation instruction, sign up for A.M. & P.M. rides
Time : 1:00
Orientation in the Wind River Dining Room
Time : 2:00-4:00
Discovery Ride (all ages)
Time : 5:30
Tie Hack Saloon – Get to know the other dudes with complimentary appetizers, wine and local microbrew tasting
Time : 6:00-7:00
Dinner in the Wind River Dining Room
Time : 7:30-9:30
Campfire at the Tipi, s'mores, volleyball
Kick off your vacation with a ranch-style brunch in our Wind River Dining Room and meet all the staff before heading to the barn to be introduced to your horse for the week. Take advantage of an introductory lesson from one of our wranglers and enjoy a discovery ride for all ages. When you get back, head to the Tie Hack Saloon to enjoy a variety of appetizers and wine tasting for the adults and sarsaparilla tasting for kids. After dinner head for the campfire and have fun making s 'mores, and playing volleyball before you turn in for the night!
Tuesday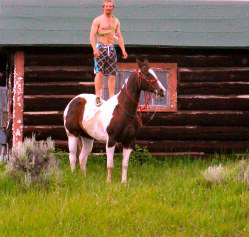 Time : 7:30-11:00
Breakfast ride (meet at the corrals at 7a.m.), cookout site
Time : 1:30
Van leaves for hiking & fishing
OPTIONAL: Outdoorsman/Mountain Man program/Wildflower Tour
Time : 2:00
P.M. Ride
Time : 5:30
Dinner in the Wind River Dining Room
Time : 7:30
Van leaves for Rustic Pine Tavern in Dubois for Square Dancing & Line Dancing
Wake up and meet at the corrals for an early ride to the cookout site for breakfast around the campfire! Teens and kids can gear up for the Polar Bear Plunge into the Wind River while we cheer them on!
After the Polar Bear Plunge, children have the option of joining the Lil' Outdoorsman Program where on a nature hike, learn how to set live traps and work on their Outdoorsman Award!
You have the choice of going hiking or fishing at Brooks Lake, team up for the Outdoorsman Program or go on a Wild Flower Tour. For those who choose to participate, there are afternoon horseback rides into the Absaroka Mountains. After dinner go to the Rustic Pine Tavern for Square Dancing. No experience required – come ready to have FUN!
Wednesday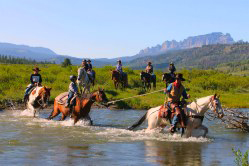 Time : Early A.M.
Wrangler run, A.M. & P.M. rides, all day rides
Time : 8:00
Van leaves for all day tour of Yellowstone
Time : 6:30 P.M.
Appetizer in Tie Hack Saloon
Time : 7:00
Dinner in the Wind River Dining Room, Mountain Man-Native American Presentation
Feeling ambitious? Enjoy the challenge of riding in the mountains while seeing more beautiful country from a different angle. You'll have the option of both morning and afternoon rides, or an all-day ride to Pellum Lake. If interested in visiting the famed Grand Teton and Yellowstone National Parks for a guided tour.
That night adults gather for appetizers in the Saloon, dinner in the Wind River Dining Room and a then games in the saloon. Teenagers gear up for a night in Moccasin Basin for a cookout and sleeping under the stars. Children can join their parents or spend time with the children's counselors for dinner, painting horses and camping out with new friends.
Thursday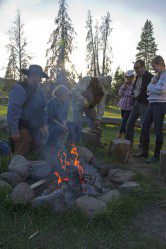 Time : 1:30-3:00
Rifle range shootout, archery, skeet, Tomahawk, knife throwing (meet at the Beaver Cabin)
Time : 3:00-4:00
USFS Presentation behind Beaver Cabin
OPTIONAL: Dutch oven cooking class
Time : 4:00-8:00
Steak Cookout, ride, sing-along, boot branding (at the cookout site)
Time : 8:30-10:30
Sunset rides for adults (18 & over), children's movie party at the Beaver Cabin, arena rides for teens
If you love taking photos, get up early for a few pointers with our resident photographer while we bring the horses into the corrals! After breakfast, you can head out on a horseback ride or take a few minutes to relax. In the afternoon, go to the shooting range and put yourself to the test.
With a variety of activities from shooting rifles to skeet, tomahawk and knife throwing or even archery, you're sure to find something that's a challenge. Following the afternoon's activities, meet at the cookout site for our Steak Cookout and come prepared to sing and have your boots branded!
After an evening of fun, adults saddle up and enjoy an evening of serenity during our weekly sunset ride, while the teenagers enjoy some arena riding and the children head to the Beaver Cabin for movie night with the counselors.
Friday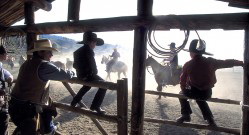 Time : Early A.M.
Wrangler run, sign up for A.M. & P.M. rides or all day rides
Time : 12:00
Old Fashioned BBQ (behind the Beaver Cabin)
Time : 6:00-7:00
Dinner in the Wind River Dining Room
Time : 7:30-9:00
Van leaves for Dubois Rodeo, Dude Ranch Ribbon Ropin'
It's another fun day at the ranch! Adventurous?! Head out for a Wrangler Run or just spend the early morning relaxing! Head out for a morning of excitement on the back of a horse, or get brave and head out to Kissinger Ridge for an all-day ride!
We'll meet for an Old Fashioned BBQ and then saddle up for an afternoon ride or enjoy a relaxing afternoon on the ranch and soak up some sun! Get prepared for an evening of excitement at the Dubois Rodeo where the kids have a chance to join in the excitement of the Dude Ranch Ribbon Roping and Mutton Bustin.
Saturday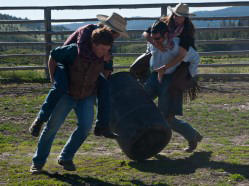 Time : 5:30
Help wrangle horses (optional)
Time : Early A.M.
Pony Express ride (advanced riders) ride or come cheer them on!
Time : 9:00-12:00
Gymkhana (games on horses), Buckin' Barrel, Farewell ride
Time : 12:30
Old fashioned picnic, awards ceremony, lodge deck
Time : 2:00
Check out
If you're brave enough, get up at the crack of dawn and meet up with the wranglers to help them wrangle in the horses! Following that morning's ride go to the arena to participate in the weekend Gymkhana (games on horseback), the buckin' barrel and last, but not least, a farewell horseback ride. After you've worked up an appetite, follow the aroma for the Old Fashioned Picnic on the deck of the lodge overlooking the Wind River. We'll have an awards ceremony you won't want to miss!
Horseback Riding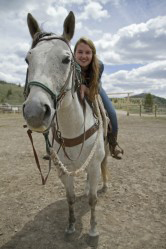 The ranch runs about 150 head of horses and mules. With that many animals, there is the ability to match the skills of any rider. A horse is assigned to you for the week. Beginner instruction is offered each day for an additional charge in the arena and children 6 and older may ride their own horse. Miles of scenic trails, guided by Western wranglers, wind through majestic mountains, surrounded by timber and an abundance of wildlife.
We have family and adult rides, as well as rides grouped according to your ability. There are sunset rides on Wapiti Ridge or Lava Mountain, where you see the Wyoming world in 360 degrees. Also a ranch rodeo and Gymkhana for all that is complete with an awards ceremony.
Cowboy Up
This program is geared for the more advanced rider and is available for an additional fee. We take you and your horse to off-ranch trails and may include an overnight excursion to our backcountry camp.
National Parks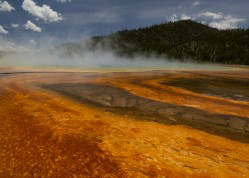 Yellowstone National Park
Located only 30 miles from the South East entrance of the park, we offer a guided day trip to Yellowstone National Park. Yellowstone offers unique wildlife viewing and is a place you'll never forget. You'll visit Old Faithful Geyser, marvel at geothermal activity, see the Grand Canyon of Yellowstone, overlook Yellowstone Lake, and search for wildlife. These fabulous wonders occur throughout the year, and we arrange guided Snow Coach Adventures to the Park in the Winter Season, click here to learn more.
Grand Teton National Park
Towering more than a mile above the valley known as Jackson Hole, the Grand Teton rises to 13,780 feet above sea level. There is habitat here for a variety of animals, from the tiniest insects, to fish, birds and large and small mammals. The drive north from Jackson to Triangle C Ranch offers a firsthand glance at this wild country. If you look carefully you can spot a moose hiding in the willows, or a coyote lookin' for dinner on Antelope Flats. From the ranch you can experience the grandeur of this park by car, boat or foot.
Backcountry and Hunting Trips
If you are interested in a real western back-country experience, Thunder Mountain Outfitters at the Triangle C Ranch is ready to take you there.
Hiking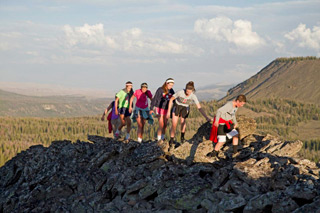 Triangle C Ranch lies in a hiker's paradise. From Lava Mountain you can see as far as the Tetons. Hike mountain trails that follow mountain streams or walk through the meadows of wildflowers and experience wildlife viewing from foot.
Fishing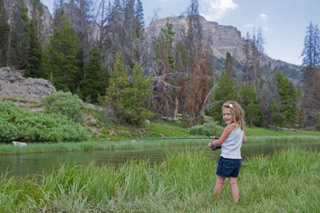 Excellent fly fishing and casting is available in the Wind River and at our nearby mountain lakes. If you're a fishing enthusiast you'll want to bring your own gear. Equipment is available for rent at the Ranch. You'll need a fishing license, which we can help arrange. Guided fishing trips are available for an additional fee. Pack fishing trips are available by previous arrangement and can be customized for your needs.
Mountain Biking
We have mountain bikes for your use around the ranch, as well as a specialized mountain bike camp out for the teens. Get some exercise and explore the trails a different way!
Golfing
There is a 9-hole golf course just 18 miles from the ranch near Dubois with cart and club rentals available. You'll need your own transportation for this activity. There is a world famous Arnold Palmer course in the shadow of the Tetons just an hour away in Jackson.
Swimming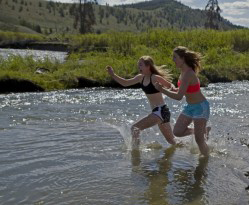 Test yourself with the Polar Bear plunge at the breakfast cookout or relax over looking the river in our new swim-spa at the lodge. The Wind River offers a cool swimming hole and the fresh water lakes are begging you for a dip. The Ranch also offers a new swim spa, a jetted pool with an endless current, perfect for exercising or relaxing after a long day of playing hard.
Canoeing
Leisurely paddle yourself around one of the many lakes near the ranch and we have a car top carrier for your convenience and transport. Guided trips are available at an extra cost.
Evening Entertainment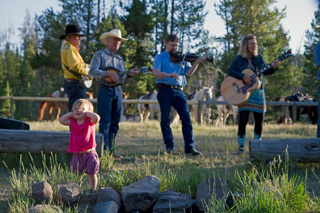 You'll find something happening every night at the Triangle C Ranch, from square dancing to rodeo to marshmallow roasts over an evening campfire, western dinner theatre, hayrides or a sunset horseback ride. You can do as much or as little as you like. Entertainment programs are offered from Memorial Day to Labor Day. After that evenings are more relaxed, unstructured and time to enjoy a little fishing or walk through the fall colors.