Lodge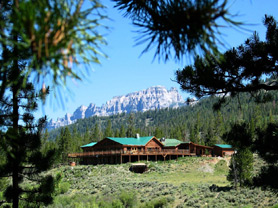 The variety of room styles at Triangle C Ranch provides accommodations for every type of visitor. Whether you're here for a romantic getaway, family vacation or corporate retreat, we have rooms to suit your needs. Our newly remodeled rustic lodge overlooks the Wind River and gorgeous views of the Absaroka Range. With a full-service spa, home theater, swim spa and pool tables, family vacations will always be filled with fun things to do. Our conference rooms, library, and dining room with seating for 65 are the perfect amenities to accompany an unforgettable corporate retreat for your company.
Location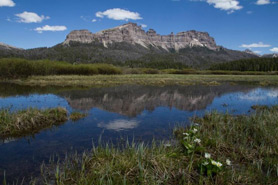 Triangle C Ranch is located off Highway 26 at the base of Togwotee Pass, just 20 miles west of Dubois. It's only a half hour drive from the North Gate of Grand Teton National Park and one hour drive from the South Gate of Yellowstone National Park, making Triangle C the perfect location. The landscape at Triangle C Ranch unfolds like a storybook telling tales of outlaws, Indians, mountain men and wagon trails. The off-the-grid location will give you an up-close and personal experience of the wild game. We're located within the breathtaking view of the Pinnacles, Absaroka Range and the Wind River that flows through the ranch. Triangle C is the historical site of the Tie Hack Camp since 1906 on the National Historical Sites registry. Now owned and operated by the Garnick family, the feel of the old west is still alive and well.
Summer
From June to September, it can get hot in western Wyoming! There are dozens of days in July and August where the temperature reaches the high 80s and low 90s. Evenings cool down, so bring a sweater – especially in June and September. But more true to course are bluebird sunny days sandwiched by cool mornings and evenings.
Fall
Fall is sometimes referred to as the Secret Season. Crowds are fewer and the parks are almost empty. The days are short, the trees are changing color, and the weather gradually cools. September to mid-November is a beautiful time because it typically remains warm enough to still enjoy summertime activities like fishing and hiking. As the end of fall approaches, the pleasant weather can be interrupted by rain in the valley and snow in the mountains.
Getting Here
The Triangle C Ranch is located at 3737 US Highway 26 in Dubois, Wyoming. We are an hour and a half Northeast of Jackson Hole, and 20 miles west of Dubois on Togwotee Pass. Call 307-455-2225 today to make reservations.
Airport
Jackson Hole airport is one hour from the ranch. United Airlines and Delta Airlines serve flights into Jackson Hole via Denver and Salt Lake City. Direct flights from Chicago, Minneapolis-St. Paul, Dallas and Los Angeles are also available.
Transportation
Triangle C Ranch will provide weekday transfers to and from Jackson. Sunday transfers are provided by either an airport shuttle or private taxi for an additional charge. We charge an additional transport fee if we provide pick-ups or drop-offs.
Rental Cars
Having a car will increase your sightseeing opportunities and add flexibility to your stay. Off-ranch fishing and canoeing options are available for those with vehicles. Please advise us of your arrival and departure plans. The Triangle C Ranch is permitted for the Shoshone National Forest, Bridger Teton National Forest, Grand Teton National Park, BLM and Yellowstone National Park.