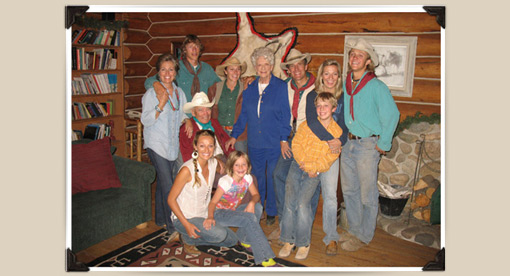 The members of the Garnick family are cowboys in the best sense of the word. They truly live that western lifestyle and have a talent at representing their cowboy culture to others. Sincere, hardworking, and personable, the family members are ideal cowboy ambassadors. Beyond that they are wild, fun, musical and there are MANY of them. A family of actors, artists, musicians and passionate personalities, they have grown up embracing both the world of entertainment and the preserving their cowboy heritage.
Dude ranching has been a part of the Garnick family heritage for four generations; Bill and Billie at 94 and 99 still make every cookout and have stories of the good ol' days when dude ranching just started in the Rocky Mountains. Things have changed a little, but this is still the real west.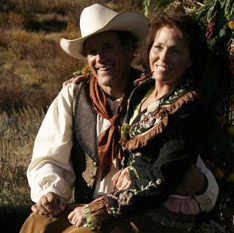 Vicki Garnick - Owner/Operator
Vicki- The "Maja" When it comes to western women, Vicki is that in one word. She has lovingly raised 8 rowdy kids, produces and directs off-Broadway musicals at the 
Jackson Hole Playhouse
and steer whispers.
"As I was sitting one day by the Wind River, I looked up toward the sky, hearing the sounds of nature, I felt the ground beneath me, and I thought to myself, all those books I read, those self-help tapes I have- they are but mere imitations to the healing I am receiving right now. To sit very still, absorb the air, sounds, earth, flowers, rocks and animals, this is true healing. Nature heals us, and this is why this ranch experience is important for me to share with family and friends. In these days we rush through life, wondering why we are unhappy, when the answer lies in the beauty around and inside us."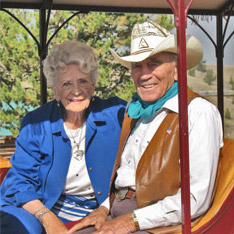 Bill and Billie Garnick
At 99 and 94 years old, Bill & Billie bring the old west to life at the ranch. They started dude ranching in the 1950s, along with a cattle auction yard and the first TV show dedicated to cattle sales and cowboys. Billie was the first female rodeo announcer, and both graduated from the University of Wyoming.
Bill still recalls his favorite horse, Cinrag, and his love of horses and cowboy-ing passed down through the generations. They never miss a cookout or a chance to tell stories about the good ol' days of western life.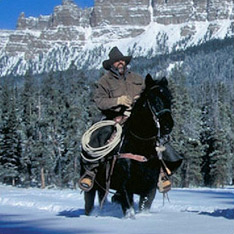 Jim Moulton
"I love the mountains, they are my friends most of my most cherished memories are because of them and the adventures that we have made from climbing to kayaking to hunting, snowmobiling and skiing- there has been a way to enjoy and embrace this wonderful state and the mountains that adorn it. I have been part of Triangle C Ranch for more than 15 years and other ranches-my life has been intertwined with this part of our western life. Come and I will help you capture a sense of the wonder of this life, the mountains and people that make up this ranch."
Jim has been a part of the Triangle C Family since we can remember. A fourth generation Wyomingite, his family homesteaded the Teton Valley. Jim is a jack-of-all trades at the ranch, and runs everything from the reservation lines, water lines to the pack strings. Jim has a strong cowboy heritage and is proud to be living the dream.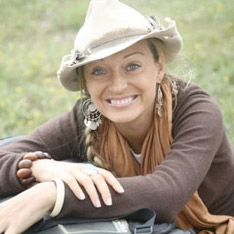 Vanessa Boshoff
"The ranch has always been home to me, I grew up loving horses, and wildlife of every kind – from the squeaky chipmunks to the bugling elk. My life was spent in riding my pony Moondancer in the backcountry, collecting reptiles, raising wild animals. I love the fact that our backyard was shared with coyotes, wolves, bear, moose and elk. Nature has always surrounded me and growing up on the ranch has led me to my career today."
The eldest of the 8, Vanessa is a wildlife naturalist, TV host and producer. With series on Discovery Channel and Animal Planet, she loves adventure and travel-has even guided trips across the globe. She lives with her cameraman husband Nel in Panama, where they create environmental documentaries.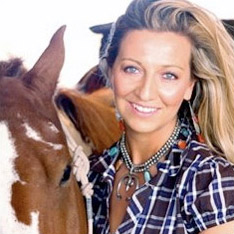 Jessica Camilla O'neal
"I wake each morning to your sweet sounds the sun is bursting over the vast mountain range, another day of exploring and with each breath you nourish me, My Love my wind river love!!' This is a verse from a song I wrote about Triangle C Ranch. It truly captures how I feel about my heritage and history there. I was 13 years old when I started taking rides at Triangle, a place I had never been there, hell I barely knew how to drive a stick shift. But there I went up long creek road my pony tail barely boppin' over the steering wheel, with a load of horses, nervous guests and a map dad drew on a napkin. Most of my scars are from horses & humans, but all of my healing was done on the banks of the Wind River nestled amongst those wild Wyoming Mountains."
Jessica is a singer/songwriter and collector of vintage cowboy boots. Jessi ropes and rides, and in Dubois Wyoming with her Indian/cowboy husband Rocky. The sister with the quickest wit, she is always up for a good hard laugh, no matter at whose expense! She provides the musical entertainment and the love of horse knowledge to the ranch. She also has a PHD (Post Hole Digger).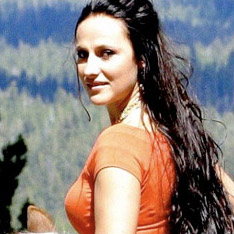 Savanna Garnick
"There is nothing I feel more strongly about than sharing my western heritage and culture with the world. I feel so privileged and honored to have grown up amongst the wildlife, mountains, horses, cowboys, nature and the beauty of this earth that I feel is a very integral part of healing and nurturing of our souls. The ranch is one of the most beautiful places on earth that every human should experience and enjoy. It's a place to allow yourself to be who you are and the freedom to experience life!"
Savanna is the rock of the family. Dependable, organized and sweet, she trains horses, fiddles and yodels, and is now trying her luck as an actress in Nashville, TN and runs marathons on her free time. Savanna returns to the Ranch in the summers to ride her horse Dunoir.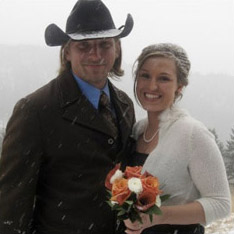 Rachael Zimmerman
Rachael is the sister/mother here. Rachael is a seasoned outdoors girl, who can survive with just a machete and a bag of rice, and start a fire from two sticks. Her husband, Scott, is a cowboy and backcountry guide. They met on the Ranch, when he came to work as a wrangler.
Now a year round resident, Scott guides the snow-coach tours in the winter and helps run the Ranch in the summer. Rachael and Scott live in Jackson with their two little kids, age 1 month and 4 years.
"I love nature, and have grown to love it more and more as I share it with my children. I think the Ranch life is the most healthy and happy way to grow up- where you can be a child, at any age."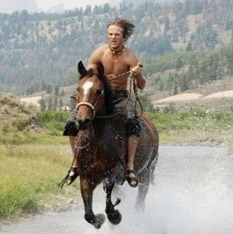 Creed Garnick
"As a child growing up amongst the bugs, dirt, chislers, bears, horses, pain, growth, imagination, and love; I have gone bias to most things that are not these things. I find that most life is superficial and it is all a misconstrued notion of how we are supposed to live, being confined to legitimacy and legality, instead of free imagery and compassion. I now live in The Concrete Jungle and I find myself coveting my child-life, wanting the love and knowledge that I once had. I have found while living in the city that nature is where we abide, it is where we draw our strength, nourishment and humanity."
Creed is a bull rider and Julliard graduate in the drama department. He has spent the last four years split between summers in Wyoming and winters in the Concrete Jungle. Creed has a deep love for the wild and the adventure it brings.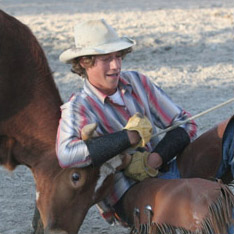 Sky Garnick
Sky was born to play sports. He has never stopped, from baseball to basketball- it was in his blood. Luckily he got the height to go with it. An artist as well, he paints and plays the piano. Tall, lanky and blonde- Sky has a love for comedy and a heart as big as the Wyoming sky. Sky is now the program director at the Ranch and provides constant entertainment.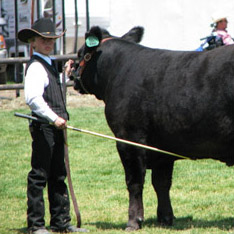 Golden Garnick
Golden is the "golden child." A living hug, he is a comfort to all the brothers and sisters. Goldie is part of the free style ski team; he loves gymnastics, and throwing himself into 360's off snowy mountaintops.
Still a little musical cowboy- Golden balances his violin, skiing, and 4-H steers somehow with high school, homework and girls. Golden is learning the ropes as a wrangler, and always joins in on the teen programs.
"The ranch is the best. I always like to be there with my brothers and sisters. We have so much fun just hanging out at the corrals. Every year I can't wait for summer to go back to the Ranch"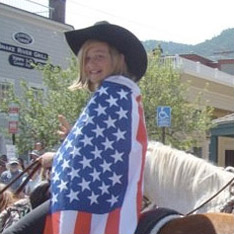 Cheyenne Garnick
Cheyenne was lucky to be born last. She is thoroughly loved (and spoiled and teased) by her older family members. She is always looking forward to meeting the new kids each week, and is an innate part of the children and teen program planning.
"I like to meet all the new people who come. I have met such cool friends from all over the world. It is pretty cool that they want to learn about cowboys and ranch life."