Triangle C Ranch Job Descriptions
Wranglers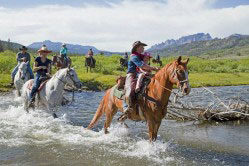 The Old Wild West, horses, and the image of a cowboy is an important part of the dude ranch experience. All of the wranglers are required to dress appropriately for the job.
A cowboy hat is to be worn at all times. A clean button down long sleeve western shirt, clean jeans and cowboy boots are required at all times on the ranch. No sweatshirts, stocking caps or tennis shoes while on duty with the guests.
The wrangler's duties include but not limited to guiding guests on horseback rides, saddling, feeding, watering, cleaning tack, stalls, and tack rooms, scooping manure, fence repair, trail maintenance, firewood cutting, and any general maintenance and carpentry.
Here at Triangle C, everybody wears different hats. There will be times when your help is needed in other areas of the ranch duties.
Wranglers have far more contact with guests than many of the other employees. You are required to host and entertain guests at all times.
At beginning of the season you will be introduced to the head wrangler and he or she is in charge of all the wranglers and ranch hands. They are in charge of appointing who does what on what days.  If you have questions or comments, you will talk to the Head Wrangler. Wranglers will work six days a week unless they have ranch duty.
Adult & Teen Program Directors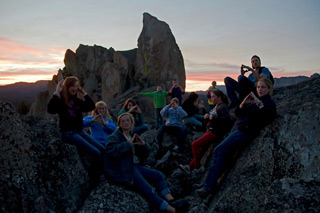 Both the teen and adult program directors work together to create and sustain the excellent, and world renowned, programs here at Triangle C Ranch. You are working constantly with the guests and are required to host them, being friendly and kind in all you do. You'll take the guests hiking, fishing, square dancing, camping & even swimming. This job is a lot of fun but it does require long hours. It is also preferred that in this position you act as ranch photographer.
Children's Counselors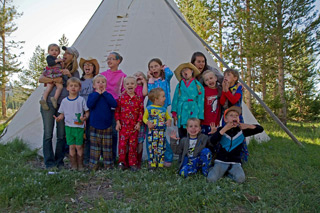 All counselors must dress in clean, jeans, button down shirts that look nice & western. You are responsible for feeding and watering small animals Monday thru Saturday. Children's Counselors will have activities for kids at 9 am to 11 am and then 2 pm to 4 pm, unless on all day rides and other activities.
The children are your main priority.
Any child under the age of 12 is your responsibility and are required to create games, crafts, activities, etc. that will be fun and exciting.
You are in charge of most of the family activities that take place on the ranch. You are in charge of coordinating the hay ride, volleyball, s 'mores and campfire and camping out every Wednesday night with kids under 12.  Also, you are in charge or maintenance of Beaver Cabin, the children's cabin.
Ranch Hands
Your duties will vary with the work that has to be done. You will follow the same criteria as the wranglers with a few exceptions. You will go on rides only if you are needed. Otherwise you will water lawns, cabin maintenance, ranch maintenance, fence repair, fire starting, trash, wood cutting, any carpentry work, farming, and any thing else that needs done on the ranch.
Kitchen Help, Waiters, and Bar Staff
Kitchen Staff are to report to the Chef each morning at 6:30 unless specified by him/her.  The kitchen staff must always be clean and look presentable. Boots, western shirts and clean jeans are your daily attire, aprons and vests will be given out. Close- toed shoes will be worn at all times. While serving and working around food, your hair should be up or pulled back. No t-shirts, shorts or sandals are allowed while dealing with the guest.
Once a week you are required to clean the lodge and cabins to prepare for the next week. Throughout the week your help will be needed to not only serve the food but also help with food prep.
Housekeeper
The housekeeper is in charge of cleaning and maintenance of all ranch guest cabins. This is a very important aspect of the guest experience and excellence is required at all times. You are required to do all ranch laundry and to clean guest rooms every day. Jeans should be worn at all times on the ranch as well as close-toed shoes (preferably boots). A Triangle C shirt /or western button downs should be worn everyday while working.