General Information
We are now accepting applications for all positions for summer 2016, and some full-time positions are open. Welcome to the Triangle C Dude Ranch. We are glad that you are thinking about applying to be part of our team. As you work through the application, please be sure to read everything carefully and include all necessary information when you send it to us. You can download the application from this page.
To the right are the requirements you must meet in order to apply; including general information about the dates we need staff. After reading about us you want to join us and have a fantastic summer click the PDF document below and return to Triangle C Ranch office by either mail or email after completion. Our staff members are very important to us and we look for warm, friendly people with a great attitude and sense of integrity, who are willing to work hard, learn new things, and have a fun time. Triangle C Ranch's staff includes all ages 18 and older. We look forward to hearing from you.
Yours from Wyoming,
Vicki Garnick, Ranch Owner
Our Basic Requirements for Staff Include:
You must be at least 18 years of age and/or have completed high school.
You must be a U.S. citizen or have a J-1 work visa.
You must be available from late May through late August or December 15 through middle of April. If you are not available for one of these time periods, we will not review your application.
Three references, two work and one personal (e.g., coach, teacher, supervisor in a non-work situation such as a volunteer activity); see application form.
You must provide evidence of interest in working with and being of assistance to other people.
You must provide evidence of ability to live in a small community of peers as a positive team member.
You must demonstrate interest in having a unique experience, not just a summer job.
Triangle C Ranch is a drug-free work place and you must be drug free. We reserve the right to use drug testing when appropriate.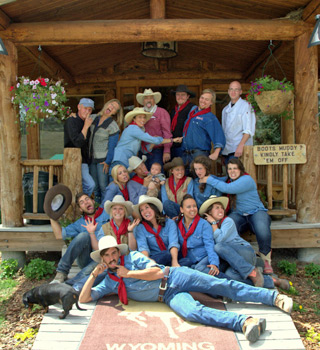 General Information:
Monthly salaries vary. Room, board and use of ranch facilities are additional benefits. Service charges consist of contributions from our guests and is divided AMONG STAFF WHO HAVE COMPLETED THEIR CONTRACTS ONLY.
If you like people and the outdoors, are looking for the experience of a lifetime, enjoy making new friends, and aren't afraid of hard work, then you'll love spending a summer with us in Wyoming. We look forward to receiving your application.