Cold Seasons At The Ranch
Triangle C Ranch is the perfect place to enjoy the majestic cold season of Wyoming. We are your winter headquarters for snowmobiling, dog sledding, snowshoeing and skiing just outside of Jackson Hole and Togwottee Pass. Explore 600 miles of groomed trails in Wyoming's abundant fresh powder. There is riding for everyone! Or opt for a backcountry dogsled ride. Call us to organize your Winter Wonderland vacation!
Winter Cabin Retreat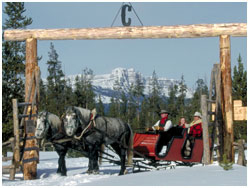 The weather outside may be frightful, but the fire inside your cabin couldn't be more delightful! Triangle C is hosting your winter wonderland retreat with hearty homemade meals in the warm Wind River Dining Room and an evening cocktail over looking the frozen river from the Tie Hack Saloon. You can enjoy many of the winter activities offered at the Ranch, or take time to watch the snow fall and admire the frosted landscape of a true Wyoming winter. Contact us for our winter specials for fantastic 3-night offer!
Snowmobiling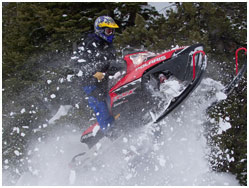 Let us be your winter headquarters for the best, untouched powder around! As a gateway to the Continental Divide, meadows of smooth country to ride and rocky ridges for the experienced rider, this is the world-renowned Togwotee Pass. The wilds of this area are perfect for boon docking. Bring your sled and hunker down in our cabins or let us help arrange your snowmobile experience!
Dog Sledding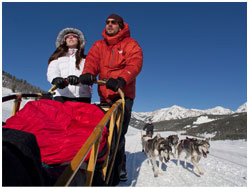 Rushing through the snow, in a husky dog driven sleigh, you will be laughing all the way! This is the best way to travel in the winter, you can hear and see your breath from the quietness of the sled, as you traverse the trails of the untouched Togwotee Pass. This is a memory worth making, and a special way to see and enjoy this winter wonderland.